When it comes to increasing the life span of your monitor screens & keeping the dust & dirt off of them, monitor covers are ultimate life-savers. They keep your screens clean and scratch-free, offering supreme protection.
Although finding the right cover according to your screen size and requirements can be a hassle, it's not one anymore — this article presents to you the five best monitor dust covers.
We combed through a diverse range of monitor covers & thoroughly evaluated each of them to find out the best ones mentioned below.
List of the Best Monitor Dust Covers
Here's a list of the 5 Best Monitor Dust Covers with Drawers currently available in the market:
1. MOSISO Monitor Dust Cover
2. KWMOBILE Computer Monitor Cover for 24-26″ Monitor
3. FORITO Monitor Dust Cover
4. SZBRO Monitor Dust Cover Water Proof
5. KWMOBILE Monitor Cover Compatible with 24-26″
1. MOSISO Monitor Dust Cover
Why do we like it?
With a variety of sizes & top-tier shades, offering complete protection and great affordability, MOSISO's sleeves join our list of the best monitor dust covers.
What does it offer?
For somebody who's super concerned about keeping their screen safe & scratch-free, MOSISO Monitor Dust Cover is the way to go. It comes in a sleeve design giving complete coverage to your screen, while its open bottom makes it easy to slide in and out.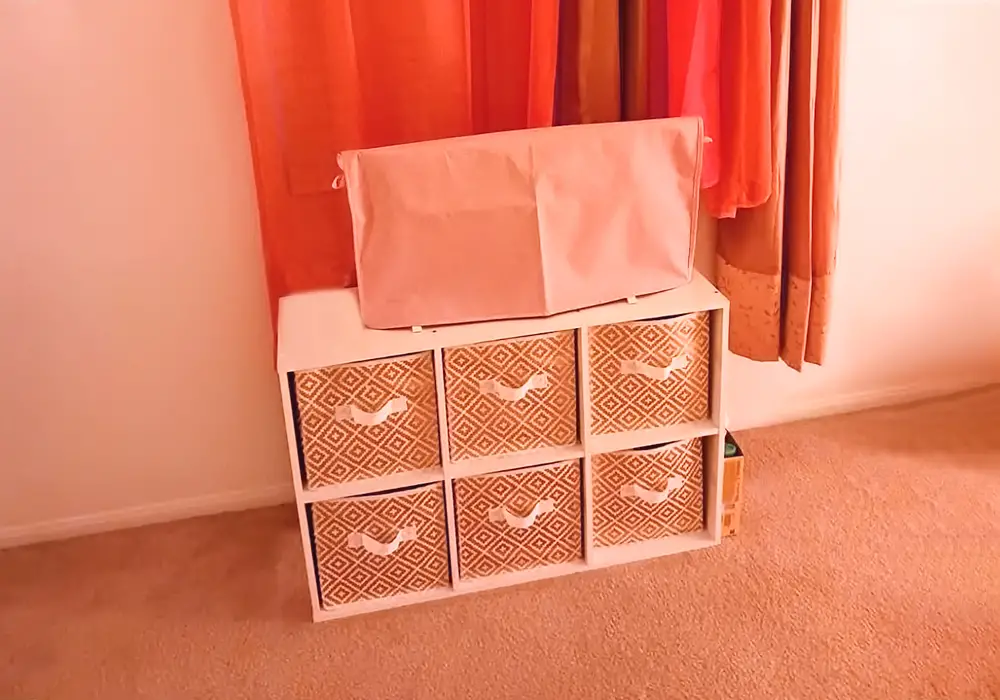 Sleek & simple, Mosiso's sleeves come in different size ranges; you'll find a suitable one for any monitor measuring from 19 to 35 inches diagonally. Made from polyester, they are exceptionally durable — wash them whenever the dust accumulates without risking the quality. Also, the material is pretty lightweight & easily fits in a regular bag pocket; thus, easy to transport.
It is finely stitched & fits firmly but make sure you select the right size. While checking it out, I found that although it does not offer any special travel protection, it was totally appropriate for regular use. We even checked its water-proof properties and it did a great job protecting against the liquid.
Furthermore, it comes with four unique shades — no compromise on aesthetics anymore; they are in your hands now.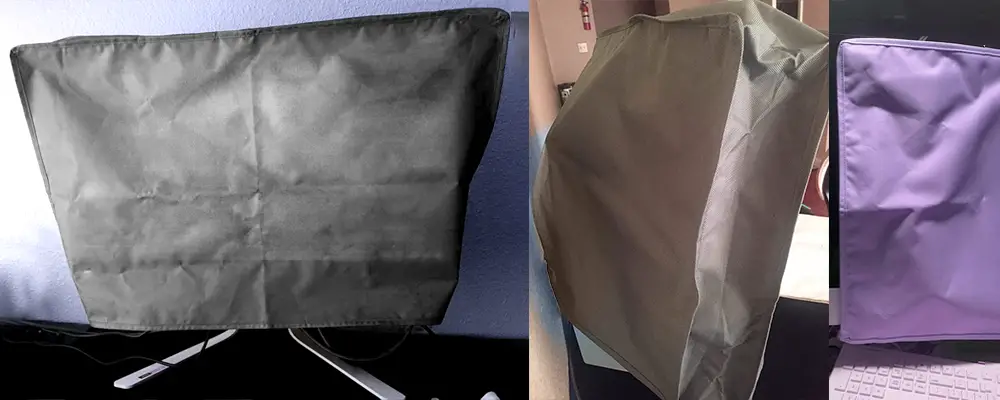 Open-bottom design
Washable & lightweight polyester fabric
Different sizes & shades
2. KWMOBILE Computer Monitor Cover for 24-26″ Monitor
Why do we like it?
KWMOBILE offers artsy monitor covers that not only provide great protection but chic self-expressions as well.
What does it offer?
I was put on KWMOBILE Computer Monitor Cover by an office colleague who used it for her 24'' screen. I personally checked it out & looked at its other designs as well. It comes with a washable material designed to deliver maximum protection without being bulky and heavy.
Plus, its lightweight material was tear-resistant as well. This ensures enhanced durability and long-lasting service, making it a one-time investment.
I also noticed an additional back opening on the cover which made it easy to put on and off. And the size was adequate enough to accommodate any 24-26″ monitor screen. Snug this around your unit when not in use and forget all the dust & dirt damaging your screen. 
Another bonus is the neat finish and a variety of epic designs. Some come with dope one-liners while others depict contrasting scenarios. This visual appeal makes it hard just to pick one! Whatever you choose, make sure to double-check the size — neither should it be too tight to block heat dissipation nor too loose that it keeps slipping.
Water & tear-resistant material
Variety of chic designs
Neat & sturdy finish
3. FORITO Monitor Dust Cover
Why do we like it?
With its strong & simple design, FORITO Monitor Dust Cover keeps all the dust off of your screen, offering ample travel protection you'll want to keep close at hand.
What does it offer?
In our ongoing search for the best monitor dust covers, FORITO came across one of the most durable designs we have had the pleasure of trying out. It is made from soft non-woven material and features an open-bottom design that fits perfectly, giving your screen a proper protective layer.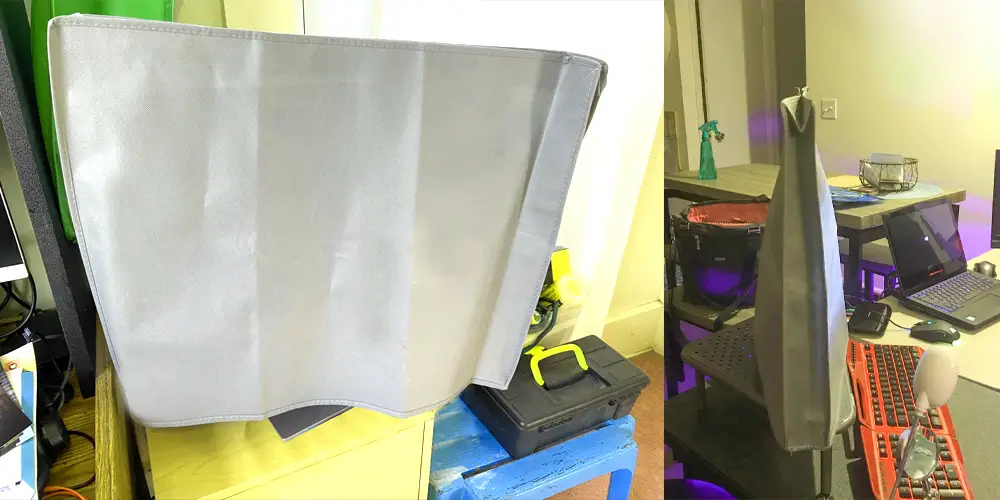 With its different sizes, it's perfect to snug around any screen from 20" to 34". FORITO's dust cover sustains heavy wear and tear, all while keeping your screen safe from scratches, smudges and dust even during travels!
Furthermore, the material is easy to take care of; all you need to do is wipe it, and all the dust and dirt will be removed within a minute. This way, it requires low maintenance but still offers incredible protection.
Also, I noticed that the sleeve kept the unit fully vented & didn't let the heat build up. No more worries about overheating issues!
As regards the appearance, its solid colored textures give it a classy look making it presentable enough that it'd look good doing its job.
Withstands heavy wear and tear
Scratch-resistant
Solid textures
Allow heat transfer
4. SZBRO Monitor Dust Cover Water Proof
Why do we like it?
SZBRO Monitor Dust Cover comes with exquisite craft and transparent material making it one of the best covers to protect your screen at an attractive price point.
What does it offer?
SZBRO's well-made monitor cover comes with a breathable & transparent plastic material that sheds water very effectively and is amongst the most resilient monitor covers. It withstands frequent washes, offering maximum durability and reliability. Truly a premium product!
Plus, it comes in a variety of sizes; measure your device accurately and get the right cover according to it. Rest assured, the cover will accommodate it perfectly and will keep it protected. Moreover, it needs minimum space for storage; fold it and even a small pocket will suffice to store it.
With a ton of hydrostatic resistance, it keeps your monitor screen safe from water. No matter whether it's liquid spills or dusty environments, your monitor will remain secure. Although it is not internally padded hence, you can't use it while traveling, it does an exceptional job for routine use.
Also, SZBRO features a spot-on design for all the minimalists out there. Get it now so you can sail through VIP security without extra hassle.
Transparent & water-proof material
Multiple size options
Minimal design
5. KWMOBILE Monitor Cover Compatible with 24-26″
Why do we like it?
KWMOBILE's monitor cover features impeccable looks that match the strength of its protection, thanks to its sturdy fabric!
What does it offer?
So if you are looking for the best bang for your buck, KWMOBILE's dust cover is all you need. It is made of a flexible plastic material that offers a great degree of water resistance. Its fine protective layer withstands everyday bumps during routine travels and keeps the monitor screen completely secured.
With a highly affordable price tag, it scores an A+ for its intended job along with being exceptionally lightweight. Thus, it can easily be carried and stored.
Also, it is washable and needs low maintenance. All you need to do to restore its brand-new look is to simply wash it, and all the dust will be gone. It comes in seven different shades — no matter what your theme color is, you will find the right shade in KWMOBILE's monitor covers.
Sturdy & flexible
Available in seven different colors
Lightweight and washable material