Adobe Acrobat Reader is a versatile software in the adobe suite to preview and edit pdf documents.
How it usually works? Adobe Acrobat can handle large PDF files without problems with smooth preview, scrolling, and handling.
Error Explained: Sometimes, opening CAD PDF files with multiple pages will give an "Out of Memory" error while freezing the Adobe Acrobat software.
The error happens occasionally. It will work fine with a file one time and will freeze the other time.
Scrolling, zooming, and moving across the PDF document will not work.
Other Formats of the same error:
"A drawing error occurred. Out of memory."
"There was an error processing an annotation or link. Out of memory."
"There was an error opening this document. Out of memory."
Error Screenshot: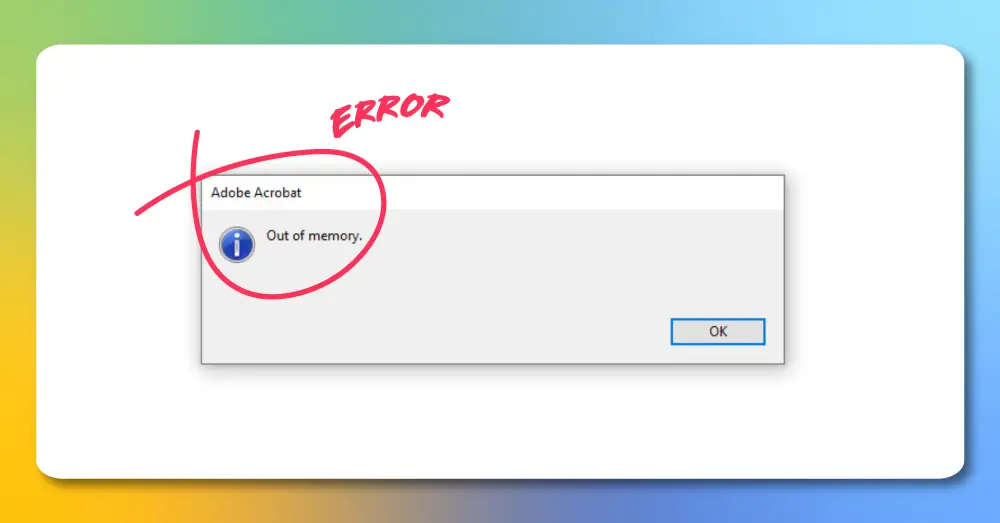 Causes of Error:
The possible causes of an "out of memory" error in adobe acrobat while viewing a CAD PDF file or Civil 3D files are explained below:
Rendering: It's an error caused due to loop or continuous blending due to a large file size an acrobat can handle. The blending error is caused by the usage of thousands of Zero Width polylines in AutoCAD with transparent background. Large file sizes can overload Adobe Acrobat software to produce unlimited files for the ram to store, resulting in an "Out of memory" error. It's a bug associated with Adobe Acrobat, which Adobe keeps trying to patch in different updates. Like this build.

32-Bit Software: The 32-bit Adobe Acrobat software can not take advantage of a 64-bit system; hence your system can not upload files requiring larger virtual ram to render previews. So, in fact, it actually ran out of memory.
32-Bit System: Again, a 32-bit system can not render larger-size files; hence acrobat can not open larger files.
32-Bit Windows: If your system is 64-bit, but the windows you have installed is 32-bit, it will again not take advantage of 64-bit software.
Cached Files: If a lot of RAM space is occupied by unwanted cache files from your browser or other software, it will not leave enough space for Acrobat to utilize.
Fix for "Out of Memory" error when opening CAD PDF files in Adobe
Here I will summarize all possible fixes for this error:
Fix 1: Update Acrobat to the latest version
The first fix that works for most users is updating the latest version of adobe acrobat software. To update to the latest version, click on Help > Check for Updates…
Once you click to check updates, you will either be offered to update the software or be informed if it's already up to date. Move to fix #2 if it's already up to date.
Fix 2: Upgrade to 64-bit Architecture.
This is one of the most critical and neglected reasons for an "Out of Memory" error in Adobe Acrobat. Make sure your system supports 64-bit architecture. All the latest PCs and systems do support 64-bit architecture.
| System | Acrobat | Recommendation |
| --- | --- | --- |
| 32-Bit Windows | 32-Bit Acrobat | Upgrade both |
| 32-Bit Windows | 64-Bit Acrobat | Acrobat will run in 32-Bit, so upgrade to 64-Bit Windows |
| 64-Bit Windows | 32-Bit Acrobat | Update Acrobat |
| 64-Bit Windows | 64-Bit Acrobat | Move to the next Fix |
Fix 3: Fresh Install all Adobe Software
There can be an unknown issue due to a missing or cross mismatch between other adobe software inside your PC.
One method to fix this problem is to uninstall all adobe software and then do a fresh install, starting with Acrobat.
Follow these steps:
Uninstall Adobe products via Creative Cloud. (Don't delete, do a proper uninstall)
Then uninstall Creative Cloud.
Run Creative Cloud cleaning programs (Creative Cloud Cleaning Guide). Download for: Windows, Mac
Reboot your computer.
Reinstall the latest Adobe Acrobat.
Fix 4: Clear RAM Cache
This fix is a simpler version of fix #3. If we keep our system on for a few days, our RAM can accumulate a lot of unwanted cache files. Similarly, other open software can also accumulate unwanted files in your RAM.
Close all active software using Task Manager (Activity Monitor on Mac) to clear your RAM cache.
Then FORCE reboot your system. To do so, press your PC power button until it turns off. Once it turns on, do a normal restart as well.
Then relaunch acrobat to see if it works. Else move to the next fix or the previous one.
Fix 5: Turn off Enhanced Security View
This fix may not work for everyone, but you can still give it a try.
To do so, navigate to Preferences > Security (Advance) > Un-check Enable Enhanced Security > Ok
Then relaunch to see if it has helped resolve the problem.
Fix 6: Reduce PDF size.
Another fix is to reduce the PDF file size. You can do so by using some online software or saving the file as "Reduced PDF."
Saving the file in reduced PDF will delete all hidden layers causing the Out of Memory Error.
Also, when exporting a CAD file into a PDF, uncheck Preserve Editability. This will reduce the PDF size and remove all unnecessary hidden layers and lines.